Driving Impressions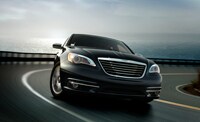 The standard engine for the new Chrysler 200 is the 173-horsepower, 166 foot-pounds 2.4-liter world engine that Chrysler shares with two other car companies. Three old V6 engines, the 3.3, the 3.8, and the 4.0-liter, have been retired and replaced by the new corporate 3.6-liter Pentastar V6, which puts out 283 horsepower and 260 foot-pounds of torque, coupled to a 6-speed automatic transmission. With the four-cylinder, there is a new three-point engine mounting system that transmits far less vibration into the cabin.
To make the car handle better, the engineers widened the rear track one inch, and retuned nearly every piece, part and system in the front and rear suspensions. They revalved all the shock absorbers, stiffened the front springs by 15 percent, added a rear stabilizer bar where there was none on the previous model, and stiffened the front and rear subframe mounts by 400 and 70 percent, respectively, and the front subframe about 200 percent vertically. The tires have been upgraded to the new quiet-running Michelin Primacy and upsized from 215 to 225 size. The 200 has much-improved noise, vibration and harshness (NVH) behavior, with a new acoustic windshield, laminated side glass, reshaped mirrors, and a retuned exhaust system.
We spent some time in a four-cylinder, 6-speed automatic Touring model and were very impressed with its overall behavior, acceleration, road noise, but we spent the majority of our seat time in a Limited V6 version.
We were genuinely surprised by the new and much higher handling limits of the Chrysler 200 chassis. With 26 of the 30 suspension and subframe bushing replaced, upgraded springs, shock absorbers, stabilizer bars and tires, the 200 took to some of our favorite Northern California driving roads like a cheetah chasing down a gazelle, changing pace, shifting its weight, gripping the ground, and staying on its line.
The 283-horsepower V6 engine is a brand new design that will power many future products, and in this application, coupled to the 6-speed but working manually in third and fourth gears through the mountain two-laners, it showed class-leading power and acceleration, not something we ever have said about the Sebring's old engines. It generates almost 1.3 horsepower per cubic inch, and has every one of the latest technologies except for direct fuel injection. Chrysler says the new V6 generates more than 90 percent of its peak torque from 1600 up to 6400 rpm, and our mountain driving showed that it always had plenty of torque coming off of slow corners. The engine has a nice, powerful growl when it's working, and you can't hear it when it's not.
At highway cruising speeds, there is some wind and tire noise (the price you pay for aggressive, sticky Goodyear tires), but it's not objectionable.